Since the fourth-quarter results were released on February 27, Frontier Communications (NYSE:FTR) has declined 30%. There is concern about weak financial performance, management's interest in a reverse stock split and a potential dividend slash. However, it is imperative that FTR be valued based upon the present value of expected future cash flows, rather than emotion. Currently buffeted by investors' emotion, FTR is substantially undervalued.
It is not a pretty picture: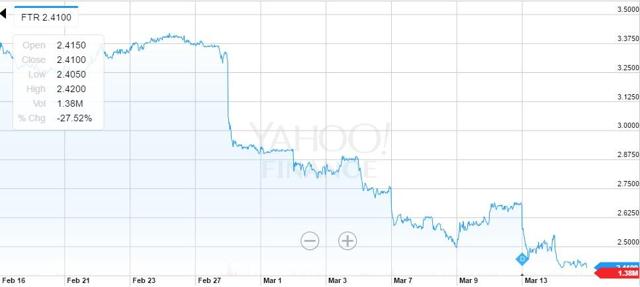 Financial results were especially weak due to CTF account cleanup stemming from the acquisition of some of Verizon's assets in 2016. With management pushing a reverse stock split, which is to be voted on in May, investors have punished FTR. With yield spiking to 15%, it seems that investors anticipate a dividend cut in the near future. To add fuel to these fears, BofA/Merrill Lynch whacked its target price from $7.50 to $2.50 hinting at the potential for a dividend reduction. Unfortunately, this is another example of analysts revising their stock price targets to reflect market sentiment rather than expected future cash flows.